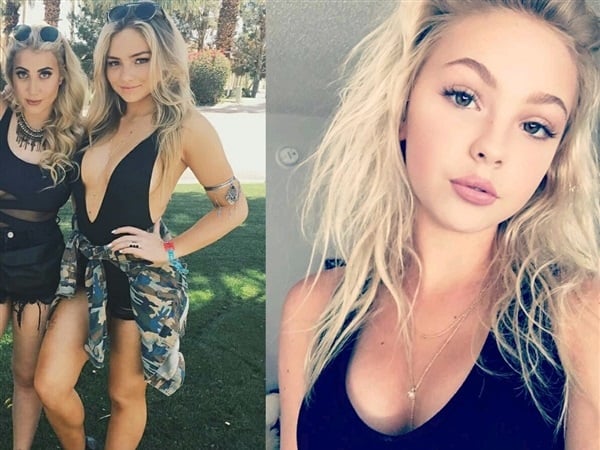 ---
Like most teen girls in the heathen West, "Gotham" star Natalie Lind and YouTube sensation Jordyn Jones love spending their free time posting seductive photos of themselves on Instagram and Snapchat to attract the attention of us virile Muslim men. Once they catch our notice the online courtship begins with us responding to their public postings by sending them photos of our enormous man meat. They then block us which causes us to create a new account, and the cat and mouse game continues.
However, with Jordyn Jones having recently turned 16-years-old and Natalie Lind only a few months away from joining her, it is time for both of these girls to finally get serious and settle down with one of their Muslim suitors (preferably the one who runs a celebrity news website, and who was passionate enough to ignore the restraining orders and send each of them over a dozen pics of his enormous hairy ball satchel).
Of course when I finally do hear back from these girls' fathers it is entirely possible that I'll only have enough dried fig cakes and camel hair blankets to pay the dowry of one of them. In which case I will have to choose between them, so I must carefully examine Natalie and Jordyn's latest social media postings below to make a wise decision… And Natalie Lind's is up first.
I like the fact that Natalie Lind is hanging around with a scrawny homoqueer, it gives me piece of mind that her maidenhead is still intact. However, I don't approve of the amount of skin she is showing, especially around her perky teen titty region. Of course that sort of thing is nothing a burka and a few strikes with some stiff Nile reeds can not correct.
Now lets check in on what Jordyn Jones has been up to in the photos below.
Obviously I do not approve of Jordyn continuously exposing her taut underdeveloped body in a bikini like this, but I do like that in one her photos she circled some fugly black girl's head to signal her out for mockery. This shows a depth of character and an understanding of the proper social status of the races, which is rare in the infidel world nowadays.
So which girl will I choose to be the next Mrs. Durka Durka Mohammed? … Natalie Lind! For no other reason then that she is younger, and so she is more likely to provide me with a greater number of future Jihadist babies.