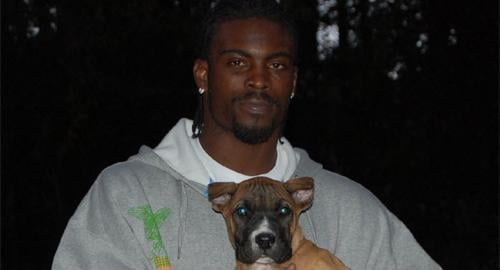 ---
(UPDATE – The Updated 2010 version of the All Criminal Team has found a new home at Holy Taco. We will no longer disgrace our holy site with your brutal pagan sports). NFL players have committed a lot of crimes since 2005's NFL All-Criminal Team, so the roster is in need of an update. Some of the faces will stay the same, while others will need to be cut to make room for a whole new crop of fresh young thugs. So, without further ado, CelebJihad.com presents the 2009 NFL All-Criminal Team! Are you ready for some football…and homicide?
OFFENSE
Michael Vick – QB: Move over Todd Marinovich. Step aside Art Schlichter. Civil cases don't count Big Ben. There's a new inmate in town and his name is Ron Mexi… er, Michael Vick. Who better to play QB on the criminal team than Vick? Not only is he a convicted felon, but his brother Marcus is racking up an unprecedented string of arrests that would make Ronnie Dobbs proud. Out of prison and back in the NFL, this Menace II (the Humane) Society is playing back up for Donovan McNabb. But on the All-Criminal Team, Vick is the unquestionable starter, presuming Tony Romo doesn't murder Jessica Simpson before Week 17. Even if Romo does pull an O.J., something tells us that Vick has still killed more "bitches."
O.J. Simpson – RB: The Juice is an obvious choice, so we won't spend much time with his legal qualifications for this team. Double-murder, here's your jersey. More recently, in a case that even Detective Nordberg could have solved, O.J. got pinched for trying to steal back sports memorabilia in a Las Vegas hotel by breaking into a room and taking it at gunpoint. Now he's doing a minimum of nine years, so he should have plenty of prison memorabilia to pedal when he gets out.
Lawrence Phillips – RB: Arrested too many times to count, a washout in both the NFL and the CFL, Phillips has finally found a team that will take him. You see, young Lawrence, has "women problems." He knows more about battery charges than the manufacturers of DieHard and the Energizer bunny combined. He's beaten every girlfriend he ever had and once punched a woman in the face after she refused to dance with him at a Miami night club. While at Nebraska, in what may be his most famous carry, he was accused of breaking into his ex's room, dragging her by the hair down three flights of stairs, and jacking her head against a mailbox. This also earns him a spot on the All-Caveman Team.
Plaxico Burress – WR: Sometimes when you try to shoot yourself in the foot you miss and hit your thigh instead. That's what Plaxico did, and for his crime he'll be locked up 24 times longer than his manslaughtering counterpart, Donte Stallworth (that's 2 years for the mathematically challenged among you). Luckily for Plax, the NFL All-Criminal team not only allows players to earn a roster spot while incarcerated, we encourage it. Way to go Plax!
Donte Stallworth – WR: Some wide receivers kill defenses with their speed. Others kill pedestrians with their cars. Donte did both, so he makes the cut on this squad. His punishment for the crime? Thirty days in jail and a lifetime driver's license suspension. The over/under on time until his next DUI: 3 years. We're betting the under.
Jerramy Stevens – TE: For whatever reason, tight ends in the NFL don't commit a lot of crimes. However, one night in 2007, tight end Jerramy Stevens got pulled over and blew a .204 BAC. Then he posed for the above photo to prove that he blew a .204 BAC. He did 12 days, paid a small fine, did a one game suspension and went back to being a law abiding NFL tight end.
Richard Collier – OL: Ordinarily, it takes a lot more than the usual DUI or girlfriend/spouse/baby mama abuse to make this roster. However, Collier sneaks onto the team not for his DUI, but for how he got it. He was found asleep behind the wheel at a McDonald's drive-thru window. How wasted was he if he passed out before getting his food? I'm lovin' it! What I'm not lovin' is the fact that less than a year later he was shot 14 times and was paralyzed from the waist down, ending his NFL career. Still, he'll always have a starting spot right here on the NFL All-Criminal Team.
Cornell Green – OL: Green was arrested earlier this year for allegedly slamming the mother of his two kids against the wall and, here's the kicker, hitting her with a mop handle. Slamming a baby mama against a wall is standard fare in the NFL, but add the mop handle beating and you know he must be a Raider.
Nate Newton – OL: Newton was a shoe-in for this team when he got busted in Louisiana with 213 pounds of marijuana after being pulled over for a traffic violation (who breaks traffic laws with a van full of drugs?), but then he made a serious case to become a team captain six weeks later when, while out on bail, he got busted again. This time it was 175 pounds of marijuana in the trunk of his car. One thing's for sure – when it's fourth and long, we know ol' Nate is down to 'go for it'.
Justin Strzelczyk – OL: Aside from only having one vowel in his last name (not counting "y"), Strzelczyk also had only one great defining moment. After a hit-and-run accident in New York, police chased his pickup 40 miles, during which Strzelczyk flipped off troopers and at one point threw a beer bottle at them. In the end, Strzelczyk crashed head on at 90 miles per hour into a tanker truck carrying corrosive acid, leaving an explosive scene police compared to an airplane crash. Strzelczyk didn't make it out alive, but he did, literally, go down in a 'blaze of glory', and you gotta respect that. And for those concerned, the driver of the tanker escaped with only minor injuries.
Barret Robbins – OL: Previously best known for disappearing the night before Oakland's Super Bowl thrashing in 2003, Robbins trumped that the following year by attacking three police officers who, being armed, shot him twice in the chest. Police reports indicate that even after being shot Robbins continued to attack the officers, which is just the kind of spunk we need on this team. Facing three counts of attempted murder of a police officer, he took a plea bargain. Since then he's been in and out of jail and rehab, but we feel this team will give him the structure he so desperately needs.
DEFENSE
Ray Lewis – LB: Following a Super Bowl party in 2000, Lewis was arrested on two counts of first-degree murder. The charges were later dropped, and Lewis plead guilty to a misdemeanor charge of obstruction of justice. Despite this, Lewis did pay out undisclosed amounts to relatives of the victims, which is not something that innocent people tend to do. His image has recovered quite a bit since the incident, but he can't fool us. Welcome aboard, Ray-Ray.
Lawrence Taylor – LB: L.T. went from cracking heads to crack head in record time. In his now infamous "60 Minutes" interview, Taylor claimed to have spent thousands of dollars a day on narcotics and to have hired prostitutes to go to opponents' hotel rooms the night before games. He's had numerous drug related arrests along with a tax evasion charge. Regarding his lifestyle in the late 1990s, Taylor described his home as "like a crack house." Our kind of player.
Bill Romanowski – LB: Romanowski was indicted by a grand jury in 2000 for allegedly obtaining phentermine, a diet drug with stimulant properties, under false pretenses. He was later acquitted but he is currently linked to the BALCO steroid scandal. He broke the orbital bone of teammate Marcus Williams in practice and effectively ended his career. He's been fined for numerous violent on-field incidents and spat in the face of wide receiver J.J. Stokes on Monday Night Football. And while it's not illegal, he's a total racist.
Alonzo Spellman – DL: Spellman is the only member of this team to have been charged with terrorizing passengers on a commercial flight and forcing an emergency landing. According to investigators, once on the ground Spellman told the pilot "I am about to rip your throat out." Add to the mix weapons charges, a standoff with police from inside his publicist's home and the usual DUI and failure to appear charges, and you've got a starting D-lineman.
Darrell Russell – DL: A repeat offender of the NFL's substance abuse policy, Russell actually broke it so many times that he ended up out of football. His weakness? Ecstasy. Perhaps that's what drove Russell to be charged with 25 felonies as an accomplice stemming from the videotaped rape of a woman by two of his friends. Prosecutors charged that he was the one behind the camera, but later dropped charges due to concern they would not win a jury conviction. Finally, Russell's substance abuse drove him and a former USC teammate into a fire hydrant and a parked bus ending his run on this earth, but cementing his place on this team for all eternity.
Terry "Tank" Johnson- DE: When your Wikipedia page has a section titled "Legal Troubles," and it makes up over 75% of the content on your page (http://en.wikipedia.org/wiki/Tank_Johnson) you can bet that you'll have a spot on this roster. Basically, Tank likes guns…a lot. And he hates to register them. But he likes leaving them loaded in homes with children present. He also likes confronting officers of the law, driving while impaired and hiring bodyguards that get murdered. For all of those reasons, Tank makes the cut!
Leonard Little – DE: Ol' Leonard Little turned 24, worked up a .19 BAC (coincidentally on October 19th) and drove his Lincoln Navigator 100 yards right through a red light and into the car of Susan Gutweiler, mother of two. He did 90 days in jail and took an eight game suspension, then went on with his life (unlike Gutweiler). Did he at least learn his lesson? Nope. In 2004 he got busted again for drunk driving, failing no less than three roadside sobriety tests. However, he somehow beat the rap and was only convicted of a misdemeanor speeding charge. Our kind of player.
Gene Atkins – S: Gene was arrested for firebombing a former business associate but was later acquitted. Most recently he barricaded himself in his house after his wife called police claiming he had shoved her against a wall, choked her, bit her and then beat her with a remote control. Then, when told by police that he was under arrest, Atkins replied, "No I'm not" and punched the officer in the throat, then pushed him outside the home. Surprisingly the police didn't agree, re-entered the home, found Atkins holding four knives, and summarily dropped him with a 'hot shot' from a Taser gun.
Eugene Robinson – S: On the eve of the Super Bowl and a mere twelve hours after receiving the Bart Starr Award from Athletes in Action, an award honoring high moral character, Robinson was busted for offering an undercover Miami policewoman $40 for oral sex. While his record is otherwise spotless, the sheer publicity this arrest generated warrants a starting spot in our secondary. Plus he's the only guy that God will allow to do the team prayer.
Adam "Pacman" Jones – CB: The question isn't what has Pacman done to make it on this team, the question is what hasn't he done to make the squad? When he goes out to strip clubs (or as he illiterately calls them, "script clubs") strippers get their heads slammed into the stage and bystanders tend to get murdered. When he drives, he makes sure to be wasted and super high so that when he exceeds the speed limit he knows it won't be by just a little bit. He has embarrassed himself as a wrestler and a rapper, and has shown no indication of altering his decision making any time soon. We can't wait to see what the future, as short as it may be, brings for our All-Star Criminal cornerback!
Corey Fuller – CB: One of the few players on this team not arrested for fighting outside a bar, beating, raping or killing a woman or any sort of narcotics charge, Fuller seems out of place on this team. He was however charged with hosting high-stakes card games at his house, which was also the site of a shootout. In that event, an assailant attempted to rob the card game and a shootout ensued in which approximately 20 rounds were fired between Fuller and the man. Although only feelings were hurt in the end, that's still some Wild West shit. It definitely earns Fuller a spot at cornerback.
SPECIAL TEAMS
Todd Sauerbrun – P: Punters are not exactly known to be the criminal type, but with a DUI to his name, Sauerbrun stands out as the most rebellious of the bunch. And to top it all off, he was also charged with driving with a revoked license, proving this punter is bad to the bone. In a hilarious aside, he has a running feud with the Gramatica family. Martin, Bill and even baby brother Santiago are all players he refuses to share a uniform with. No worries, Todd, unless one of them holds up a Dairy Queen, it'll be just you and Jeff Reed.
Jeff Reed – K: Reed was cited for criminal mischief and disorderly conduct after throwing a temper tantrum in a convenience store restroom. His crime? He damaged a towel dispenser after finding it empty. Seriously. Then, as if he hadn't done enough to reaffirm the stereotype that all kickers are pussies, he plead guilty and paid a fine. You gotta fight that shit, man!
THE WARDEN
Jimmy Johnson – Coach: Seeing as how he's already coached half this team, he's the obvious choice for the job. Whether you're looking at his days at the University of Miami or with the Dallas Cowboys, this guy has never met a criminal he wouldn't put in the starting lineup. While he has never been charged with a crime, he has been known to associate with individuals that could best be described as unsavory.