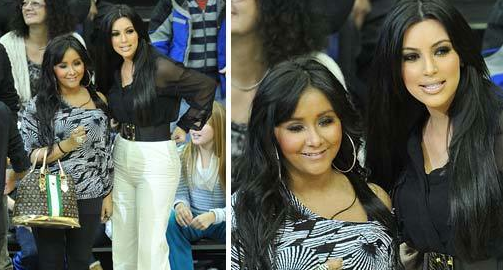 ---
High-level summits are not just reserved for heads of state at places like Versailles or Camp David. American succubii Kim Kardashian and Snooki got together at a silly basketball game to determine next steps for making the world a dumber, less tolerable place.
Though no notes were taken during the meeting, friend of CJ Ahmed is a pretty good lip reader and was able to make out the following based on video footage of the two:
Kim: I think I'm trying to get Africans to stop worrying about food so much and possibly get them interested in faux diamonds and exotic perfumes.
Snooki: Oh, that's good. I also wanted to do something in Africa. There's so much disease and suffering over there, I thought they could lighten up by having a few drinks then some casual, anonymous sex.
Kim: Umm, I'm not sure that's a great idea….
Snooki: Why? Oh, can you hold my gum for a second? Here…
[scene]