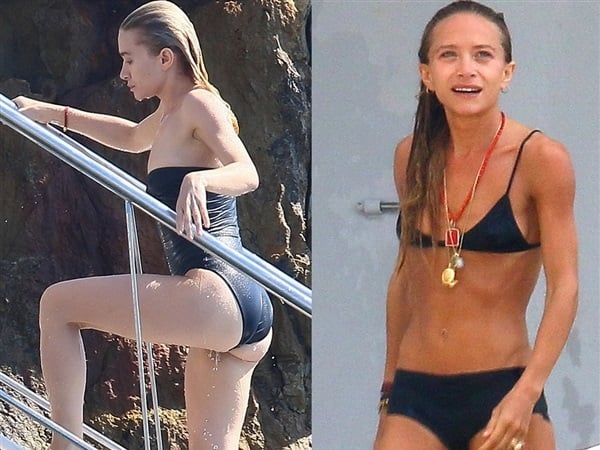 ---
Mary-Kate and Ashley Olsen (of the famous Olsen twins) take to the south of France to renew their slutty sibling rivalry by flaunting their nearly nude bodies in swimsuits in the photos below.
First up we have Ashley Olsen, whose shapely ass cheeks hang out the bottom of her soaking wet swimsuit in the pics below.
Mary-Kate Olsen responded to her sister's plump rump challenge by showcasing her gaunt bony frame in a bikini in the photos below.
Of course the clear winner of this swimsuit battle is none other then Mary-Kate, for she has cultivated a pleasingly androgynous body by righteously starving and vomiting away any signs of sinful femininity.
Unfortunately for the Olsen twins these swimsuit pics are many years too late to be of any real interest to us virile Muslims. If Mary-Kate and Ashley's showbiz parents would have done the right thing and auctioned them off as a set back in their "Full House" heyday they certainly would have pocketed quite a few dinars from us, but now the Olsen twins are just another pair of decrepit washed-up old whores.